LOW MAINTENANCE BEARD TIPS THAT WILL KEEP YOU LOOKING SHARP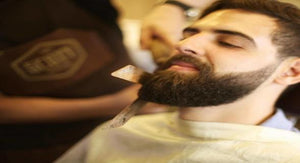 If you have a beard then you'll know how important it is for you to take good care of it. The truth is that you don't need to spend hours on end, every single day grooming yourself, and by following these simple and easy tips, you can easily keep your beard looking better than ever.
Keep it Short
If you want a beard with minimal effort, keep it short. All you need are some good scissors and a trimer. Shorter beards = easier beards!
Buy Essential Items
There are thousands of products available on the market today, but all you actually need is a comb, some balm, beard soap and oil. When you have these items, you'll have everything you need to keep your wiry beard under control and it will also make it much easier to maintain as well.
Moustaches Need to Be Simple
A lot of fellas with beards will probably agree that styling a moustache is time-consuming. If you want it to be long and full, you'll have to spend extra time styling it. The solution here is to stick it altogether, simply trim the contour of your lip and you're done. You'll keep the length and even the bulk of your beard, and you won't have to maintain it a lot either.
You also don't need to lay out money on getting the best trimmer in the world either, because it's very easy to keep your beard looking great while also not breaking the bank. Why don't you give some of the above tips a go for yourself today? And offer some of your own tips to help out your bearded brethren.